Fall is officially here and with it comes cool weather, pumpkin carving, and lawn care. That's right, fall is an excellent and important time to perform lawn maintenance in preparation for the frigid winter ahead. Fall lawn care doesn't need to be painful though, follow these 7 pro tips to keep that lawn lush and healthy into the winter.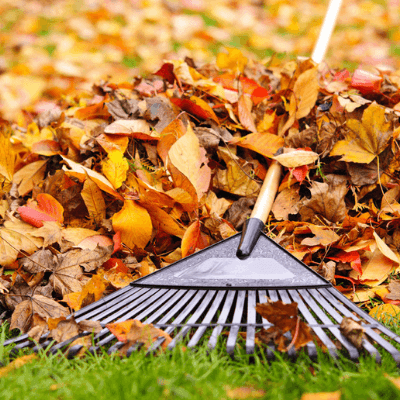 1. A Clean Lawn is a Happy Lawn – Rake Those Leaves!
Fall may be best known for the fiery show that the trees put on for us every year. Seeing the golds, reds, and oranges of the leaves has become a tourist attraction for leaf-peepers everywhere. However, when the bright canopies turn into soggy carpeting that's when the problems arise.
A thick layer of leaves over your grass will block light and trap moisture. This creates a perfect atmosphere for fungus, disease, and pests. Raking the leaves and removing any sticks or debris will give your grass the light it needs and let any excess moisture dry up. It also takes away potential hiding spots for ticks and other pests looking for warmth.
2. Mow, Mow, Mow Your Lawn
Just because it's fall and the grass is growing slower doesn't mean you can stop mowing just yet. Keeping your grass cut short, but not too short, will reduce any risk of lawn disease or fungal growth. The key is to keep your mowing height around 2 inches. Not only will your lawn be healthier, but it'll also eliminate many pests that like to hide in tall grass.
Make sure to mow your lawn throughout the fall until the first hard frost. After that, don't forget to winterize that mower so it's ready to go in the spring!
3. Aeration – Let Those Roots Breathe!
After a summer of heavy use, the soil of your lawn becomes compacted. Aeration will loosen up the soil, allowing water, oxygen, and fertilizer to get down into the roots. These essential nutrients will get stored throughout the winter.
4. Overseeding – Fill Those Bald Spots
If your lawn is looking thin or if you see any bare spots then overseeding is a great way to fix these problems. Throwing down a fresh batch of grass seed, especially after aeration, will help give you that lush lawn we all want. Overseeding will also help keep your lawn from being overrun from weeds. Come springtime, you'll have a full and lush lawn that will surely impress your neighbors.
5. Fertilize That Lawn!
Going into the frigid New Jersey winter, your lawn needs to store up some essential nutrients. Fertilization is essential for your fall lawn care regimen. This will give your lawn all the nutrients it needs to grow a strong and healthy root system. Not only that, but one last treatment of fertilizer for the fall will help protect your lawn from the cold weather stresses that come with the winter.

6. Control Those Weeds- Take Back Your Lawn!
After the summer your lawn may have a bit of a weed problem. If that's the case then fall is an excellent time for some weed control. Weeds are working on storing nutrients in the fall just like all other plants. Putting down a weed killer during this time of nutrient absorption will be extremely effective. By springtime, your lawn will be weed-free!
7. Make Those Pests Bug Off
As the weather cools off, all of the outdoor pests will be looking for a warm winter home. Piles of leaves, untrimmed trees and shrubs, tall grass, and piles of wood are all potential hiding places. Make sure your lawn is well-maintained to keep any unwanted pests away this winter. It may also be a good idea to invest in a perimeter treatment for your home. This will be a last line of defense against the army of outdoor pests looking for warmth this winter.
Let the Professionals Help With Your Fall Lawn Care
Don't get overwhelmed by fall lawn care. If you need some extra help contact us at Elements Lawn and Pest. Call us today at (856) 375-1340 for a quote, let's get your lawn ready for winter!