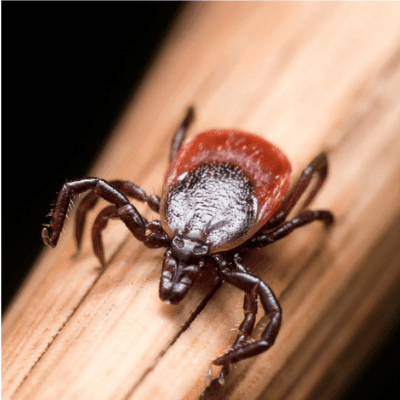 Contrary to popular belief, ticks are not just a spring and summer nuisance. Fall tick season is upon us, and now it is more important than ever to be educated on tick identification, protection, and prevention.
While some ticks do slow down in the fall months, other ticks are just getting started. For example, It's around this time each year where the adult black-legged (deer) tick becomes active and starts looking for a meal. These ticks like to hide out in leaf litter, shaded, or wooded areas. They are also the primary carrier of Lyme disease.  Knowing how to identify, protect, and prevent them is crucial during these fall months.
Tick Identification
The three most common fall ticks in New Jersey are the deer tick, brown dog tick, and lone star tick. Here are some tips to help you identify each one:
Deer tick – Both the male and female have black legs. Their primary color can range anywhere from a dark brown to light red. Most other ticks don't have the orange/red backing that the female deer tick has, so looking for that will be helpful in identification.

Brown dog tick – This tick is also red/brown, but it has a unique way of being identified. The basis capituli (area below the mouth) on the brown dog tick is hexagonal, and it is one of the very few ticks that have this feature. These ticks are commonly found on dogs (hence the name) and can live most of their lives inside your home.

Lone star tick – The females will have a large white spot on their backs, while the males will have dotted white spots in random areas on their backs.
Tick Protection and Prevention
These common New Jersey ticks can spread diseases like Lyme disease,  Rocky Mountain spotted fever and Tularemia. Protecting yourself, your family, and your pets from them is crucial.  So is preventing them from re-entering your yard or home. Here are some tips for protecting and preventing a return:
Deer and Lone Star tick – Because these ticks like to hide in areas with lots of cover, keeping a well-manicured lawn can make your home into an uninviting space. Also, because they enjoy wooded, shaded areas, it is important to always do a "tick check" after walks in the woods, or tall grassy areas. Make sure you check your dogs and cats too (there are even tick removal tools to help with this!)

Brown dog tick – As previously mentioned this tick is found mostly on dogs. They can live most of their lives in your home. The best way to protect your dogs and prevent an infestation in your home is cleanliness. Clean and vacuum the areas your dog hangs out most (especially his sleeping area and cage.) There are also tick treatments that can be prescribed by your veterinarian to protect your furry friends.
Protect your loved ones from ticks this fall and call the professionals at Elements Lawn and Pest. We have a 100% natural tick prevention program that will help you get rid of these nasty pests for good. Give us a call at 856-375-1340!