Who doesn't love a lush, green lawn? Gorgeous grass will enhance your curb appeal, provide a relaxing outdoor space for your family, and even increase your property value. Plus the all-important bragging rights that go along with having the nicest lawn on the block don't hurt either.
If you're a seasoned homeowner, you know that lawns like that don't just happen, and they require far more than routine mowing and watering. They demand time and know-how, balancing preventive care with proactive treatments, and ideally with as few chemicals as possible.
That's where our lawn care programs come in. Reclaim your time, spend the warmer months doing what you love, and let Elements Lawn & Pest handle the rest.
Choose the Perfect Lawn Care Plan For You
Our comprehensive lawn care programs are designed to meet the specific needs of your lawn, from fertilization and weed control to insect and disease management.
Option 1: Proactive Lawn Care
"All-inclusive" program designed for the customer who says: "Whatever my lawn needs, go ahead and do it!"
Carbon-based fertility and soil stimulants, improving overall soil health for a happier and healthier lawn, all with fewer chemical inputs.
Fungus/disease control applied preventatively BEFORE any outbreaks occur.
Grub prevention.
Nearly every weed that can invade your lawn - GUARANTEED!
Option 2: Hybrid Lawn Care
Our hybrid program offers comprehensive coverage of all your lawn's basic needs, and will provide excellent results.
Carbon-based fertility and soil stimulants to improve soil health (again, with reduced chemical inputs).
Targeted broadleaf weed control for dandelions, wild violets, clover, plantain, etc.
Nutsedge control on scheduled service visits.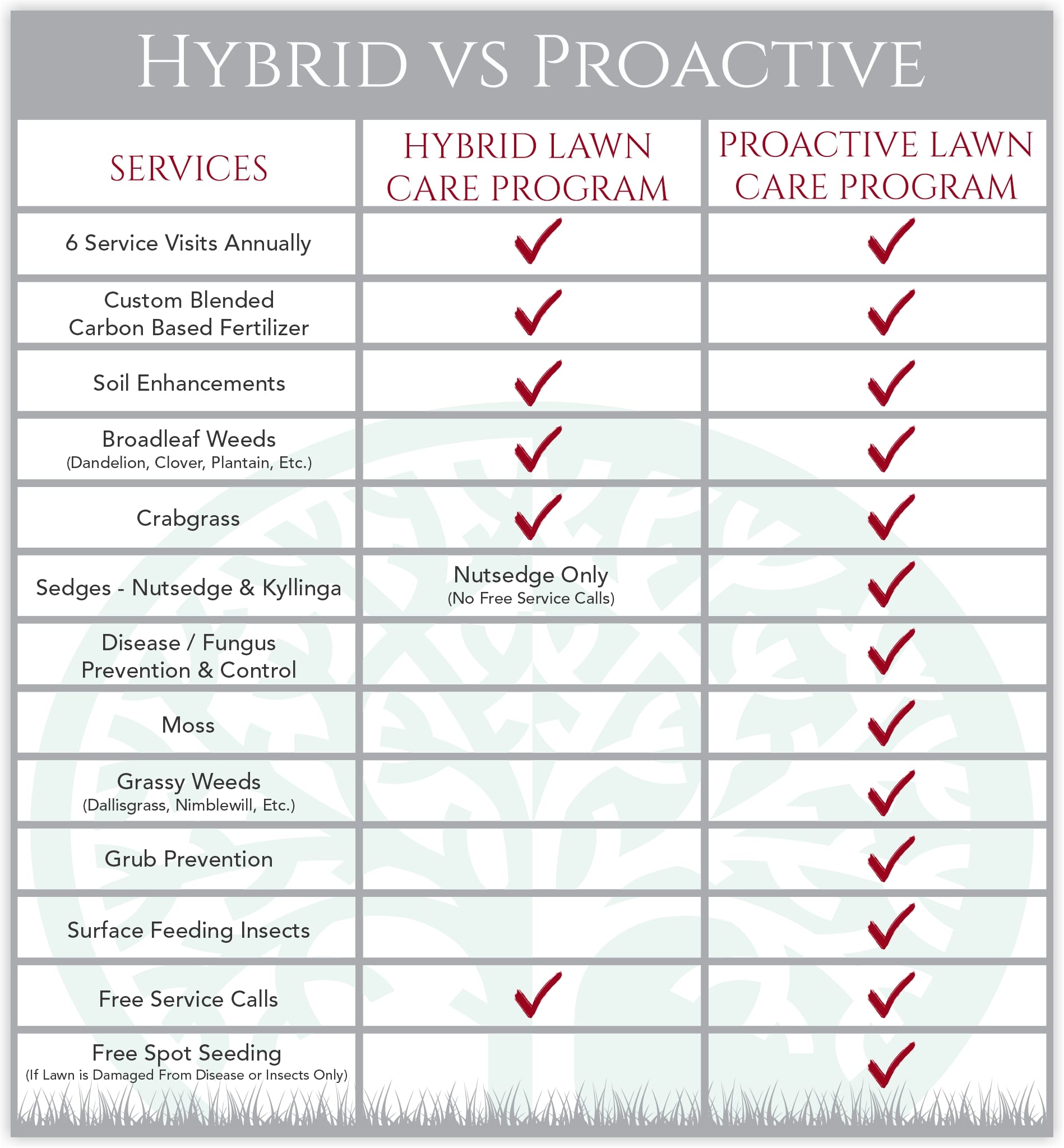 Why Is Lawn Fertilizing Important?
Proper fertilization is key to a healthy lawn, but there's rarely a one-size-fits-all approach. At Elements Lawn & Pest, we go deeper and develop a customized fertilization plan to ensure your lawn gets the right nutrients in the right amounts at the right times.
Rather than rely on chemicals, we offer carbon-based lawn fertilizers and soil enhancements. They're a popular choice for homeowners who prefer a more eco-friendly option, and are made from natural and renewable sources: compost, animal manure, and plant-based materials. These products work right within your lawn and offer a slow-release source of nutrients, supercharging the natural microbes to create the best growing environment possible.
A Better Approach To Weed Control
You want to promote growth, but only the right kind of growth. Heavy on the grass and lighter on the weeds… We can help with that too.
While many lawn care companies cover your entire lawn with herbicides, we leverage much more targeted weed control techniques. This approach is more effective since we're pinpointing the issue strategically, plus it drastically cuts down on chemical usage. In turn, that means your yard will look better and be healthier… naturally.
Why Choose Elements Lawn & Pest?
Regardless of which plan you choose, you're going to love the results: healthier grass, effective weed control, pest prevention, and freed up weekends. We understand that every lawn is a bit different too, so we're happy to answer your questions, exploring your specific goals and concerns.
Local, family-owned company
We notify you 24 hours before all services via text or email
Carbon-based fertilizers provide a sustainable approach
Bio-stimulants encourage soil health
Targeted weed control - we do not blanket your lawn with herbicides on each service visit